Marble & Tile USA - Sep 06, 2023
Zellige Tiles: Why The Hottest Design Trend Is Here to Stay
In the ever-evolving world of interior design, trends come and go, but some elements stand the test of time. One such element that's taking the design world by storm is Zellige tiles. These unique and captivating tiles have become the newest design trend, and it's safe to say they're here to stay. In this blog, we'll delve into what makes Zellige tiles so special, where to install them, which home styles they complement, and the wide array of colors they come in.
The Allure of Zellige Tiles

Zellige tiles, originally hailing from Morocco, are handcrafted, glazed terracotta tiles known for their intricate patterns and stunning colors. These tiles are a testament to the artistry and craftsmanship that has been perfected over centuries. What sets Zellige tiles apart is their imperfections – their irregular shapes and the subtle variations in color and texture create a visually striking mosaic effect that adds depth and character to any space.
Where to Install Zellige Tiles

The versatility of Zellige tiles is one of their key selling points. These tiles can be used in a wide range of settings, from kitchens to bathrooms, living rooms to outdoor patios. Their ability to adapt to different environments makes them a popular choice for homeowners and designers alike.
Kitchen Backsplashes
Zellige tiles can transform an ordinary kitchen into a vibrant culinary oasis. The glimmering surfaces reflect light, adding an element of radiance to the heart of your home.
Bathroom Walls
Elevate your bathroom design with the allure of Zellige tiles. Their moisture-resistant properties make them a practical and visually appealing choice for shower walls or as an accent in powder rooms.
Fireplace Surrounds
Create a cozy and inviting atmosphere by adorning your fireplace with Zellige tiles. The tiles' unique texture adds warmth and charm to your living space.
Outdoor Spaces
Zellige tiles are not limited to indoor use. These durable tiles can be installed in outdoor areas like patios and verandas.
Complementing Home Styles
Zellige tiles are incredibly adaptable and can seamlessly blend with various home styles:
Bohemian
Zellige tiles are a perfect fit for boho-chic interiors, infusing a sense of eclectic charm and vibrant energy.
Modern
In contemporary homes, Zellige tiles can serve as a focal point, creating a striking contrast against minimalist designs.
Traditional
Zellige tiles can be used to add a touch of novelty to traditional interiors, giving them a fresh and exciting update.
Mediterranean
These tiles naturally harmonize with Mediterranean-style homes, enhancing the rustic, sun-soaked ambiance.
A Spectrum of Colors
Zellige tiles come in a spectrum of colors, allowing you to find the perfect shade for your design vision. From earthy neutrals to bold and vibrant hues, there's a Zellige tile to suit every style and palette. The variety of colors ensures that you can use these tiles to create focal points, accents, or even entire walls that complement your space.
Related Posts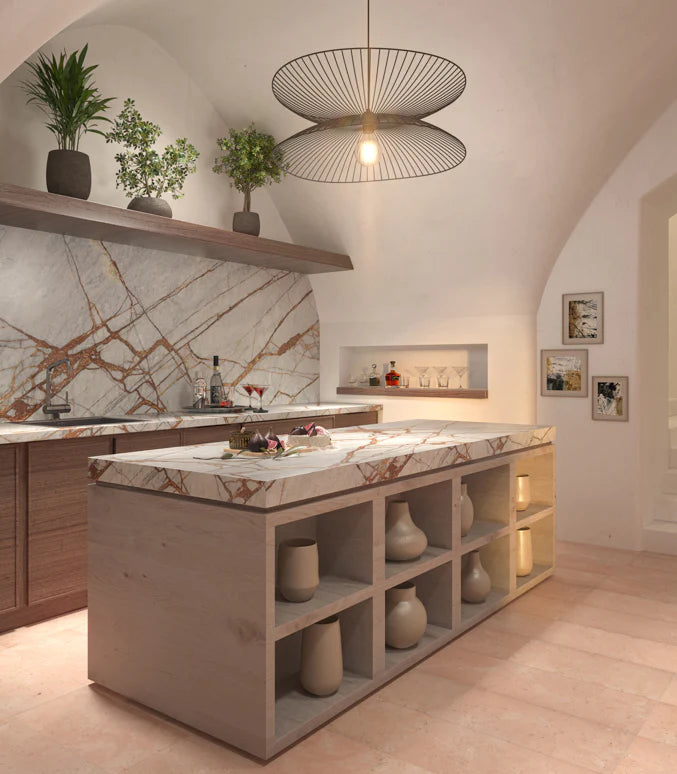 Sep 21, 2023 Marble & Tile USA
Stay Inspired. Follow Us On Instagram. @marbletileusa